Damage Survey
Long-distance flow-slide caused by the Sulawesi earthquake
スラウェシ島地震による長距離地盤流動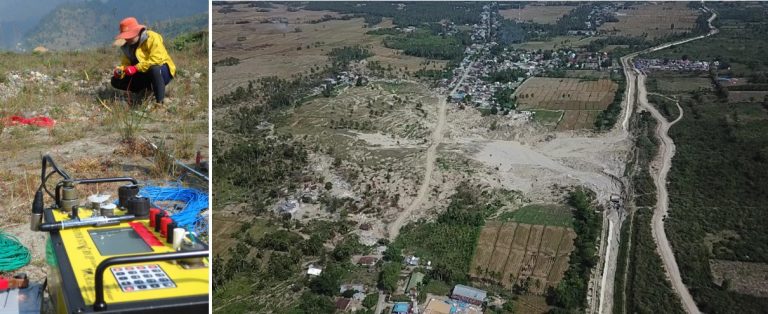 2018年スラウェシ島地震により、超緩斜面で発生した長距離地盤流動の発生メカニズムを、現場調査、模型実験、室内土質試験、数値解析を駆使して解明します。
We investigate the occurrence mechanism of long-distance flow-slide on very gentle slopes due to the 2018 Sulawesi Earthquake by means of field survey, model test, laboratory soil test, and numerical simulation.
Particle crushing of volcanic soil and ground subsidence caused by the Kumamoto Earthquake
熊本地震による火山性堆積土の粒子破砕と地盤沈下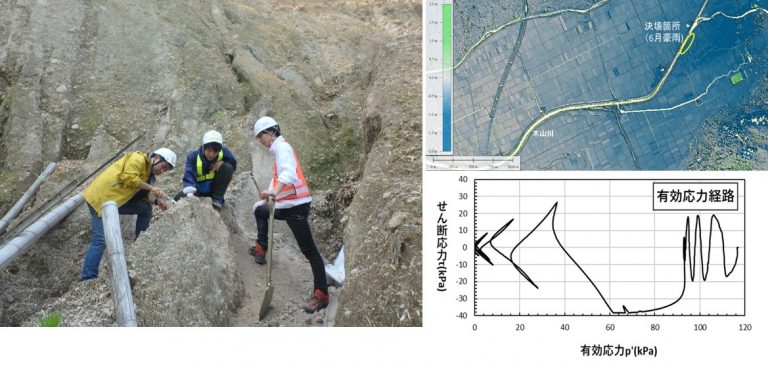 2016年熊本地震では、熊本市の農地で地盤沈下が広域的に発生して、かつ地震後にはこの地盤沈下を素因とする洪水により多大な被害が生じます。本研究では、一連の地震応答解析と現場採取試料を利用した室内土質試験によって、この地盤沈下は阿蘇山起源の火山灰軽石層(Aso-4)の粒子破砕が原因として考えられることを示しました。
The 2016 Kumamoto earthquake caused ground subsidence in the agricultural land of Kumamoto City, and heavy rainfall following the earthquake caused flooding in this area. A series of seismic response analyzes and laboratory soil tests suggested that the ground subsidence may be caused by particle crushing of the pumice layer in Aso-4.